HA-PA-1097719V -
Thailand, pattaya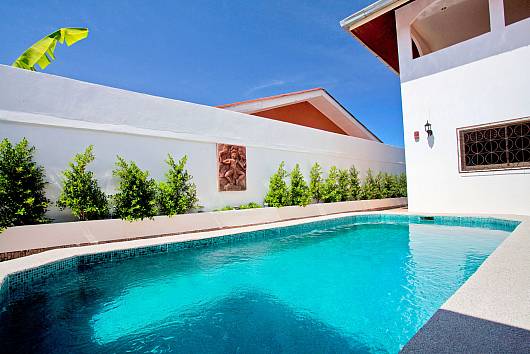 Property Description
This 5-bedroom villa is situated in a residential estate with 24 hour security just 6km from the beach in an area known as HA-PA-1097719V in East Pattaya. Although not located right in the heart of Pattaya, this area has lots of international restaurants and a bar scene due to its expatriate residents living nearby. The villa has 5 bedrooms, 6 bathrooms, spacious living areas, a well equipped kitchen and private swimming pool located on the back garden. Sleeping 10 persons across the 5 bedrooms, this villa is tailor made for groups of mates holidaying together, or large families that want to enjoy their time together without the restraints a hotel provides. Clean, well maintained and enjoying a warm atmosphere, the villa really is a winner for holiday stays, and with the quiet location conveniently just outside Pattaya, you get the best of both worlds. Location Situated 6km from beach, the villa is positioned on a residential estate just off HA-PA-1097719V in East Pattaya. The location is quiet but approximately 1.5km to lots of local bars and restaurants. In under a 5-minute drive, you can be on Sukhumvit Road, home to lots of shopping centers, and a further 5-minute drive from there you can be at Pattaya Beach Road. This is a great location for those that want privacy but still within a short distance to those facilities that will make your holiday an interesting experience.
Living room
The living room is a very large area and the main part of the open plan living space. With its massive settee seating 12 people and a large flat screen TV with international channels, this is a great place for you and your travelling companions to relax in the evening.
Kitchen
This kitchen is fully loaded with lots of appliances, perfect for those who like a bit of self catering. Take advantage of the microwave, dishwasher, kettle, rice cooker, stovetops, toaster, oven and a refrigerator.
Dining room
The dining area of the open plan space is between the kitchen and lounge and has a large 10-seat wooden dining table.
Bedrooms
Sleeping a total of 10 people, the villa has five bedrooms, all with double beds, TVs with cable channels, ensuite bathrooms and wardrobes. Four of the bedrooms are located on the ground floor, while the fifth is one the second floor and comes equipped with a large terrace with seats overlooking the pool and estate.
Bathrooms
The villa has 6 bathrooms. Five of those bathrooms are ensuite to the bedrooms and have facilities that include toilets, wash basins and showers. The 6th bathroom is for guests and just has a toilet and wash basin.
Highlights
| | |
| --- | --- |
| Distance to Beach | 5.4 km |
| Distance to Restaurant | 1 km |
| Distance to Nightlife | 2 km |
| Distance to Shops | 0.7 km |
| Distance to Spa/Wellness | 2 km |
Amenities
High-Speed Internet
Housekeeping
Parking
Meet and greet
Non Smoking
Washing Machine
Car Available
Private Pool
Chef Available
Air Conditioning
Linen Provided
Towels Provided
Kitchen Fridge
Equipment Kitchen
Microwave
Kitchen Hob
Kitchen Kettle
Outside Balcony
Fully equipped kitchen/kitchenette
Terms & conditions
Refundable Security Deposit
Upon check – in, we require a refundable security deposit, payable in cash, in any currency.
The amount of the refundable deposit is dependent upon the size of the property. These amounts are general guidelines only and some villas may require a larger deposit. Please consult your booking form or submit an enquiry for the exact amount.
Tariff
Properties up to and including 3 bedrooms = 5,000 Baht
4 & 5 bedroom properties = 10,000 Baht
6 bedroom properties and above = 15,000 Baht
We retain the right to request and hold in safekeeping, the passport or ID Card of the party leader as stated on the Booking Form until the refundable deposit is paid.
We retain the right to refuse access to the property if the party leader and / or their guests refuse to comply with this policy.
The deposit will be refunded in cash, in the currency given, in full, upon the departure of all guests in the party provided it is mutually agreed between the guest and the representative that no damage has been inflicted whatsoever on the property, its contents, the pool (if any) or any other aspect pertaining to the property, that ALL payments have been met and that ALL keys for the property and the personal safe, are returned.
Lost or incomplete sets of keys will be charged to the guest at 1,000 Baht per set.
Digital electronic keys THB 3000.00 per set.


Cancellation by the Guest
Villa booked is 100 % non refundable
The prices of all our properties include a daily allowance for free mains water and electricity.
Properties up to and including 4 bedrooms have 57 Kw units allowance free per day.
Properties of 5 bedrooms and above have 100 Kw units allowance free per day.
Obviously, unnecessary use of the air-conditioning, especially when out of the property or leaving it switched on whilst doors and windows are open, will waste your free allowance and your money.
Please switch off your air conditioning when not required
If your free allowance is exceeded, a charge of 7 (seven) Baht per unit will be made. This is deductible from your refundable security deposit on check-out.
Some properties are much larger than others, so please monitor your usage.
With some 'high end' villas, utility services are inclusive and these will be stated on your booking details.
Again, please do not use the air-conditioning unnecessarily and switch off when going out!
Please consider our non- smoking guests and smoke outside the property, ash trays are provided.
Smoking inside the property is strictly forbidden.
Any guest found smoking inside the property or any evidence that smoking has occurred within the property WILL be charged at 10,000 Baht to cover the costs of a professional deep clean.
The maximum number of guests which can occupy any property is dictated entirely by the number of single or double beds within that property unless otherwise agreed.
Additional occupancy is at the discretion of the agent and is non – negotiable.
Additional occupancy, if agreed , will always be charged by dividing the seasonal daily rate at the time, by the maximum number of persons for which there are beds.
Example - Seasonal Daily Rate 10,000 / 5 Double Beds = 10 guests additional guests 1,000 Baht per day plus the cost of the additional bed at 500 Baht per day.
Daily maid service is included in the price of your property
It constitutes a thorough daily clean of your property and making of the beds, it does not however include washing up your dishes or personal washing of clothes or ironing. There will be a charge of 500THB for washing up left at time of departure (See Clause 18. Surcharges)
If this service is required an offer to the maids of a nominal but realistic sum will usually suffice although it is entirely at their discretion whether they accept your offer or, for an extra charge, we can provide a full time maid service 9:00 to 17:30hrs.
Your towels will be changed after two days' usage and bed linen after four days of use. Extra towels can be provided if required at a laundry charge of 10 Baht per towel per day and extra changes of bed linen charged at 350 Baht per bed per time.
Damaged or un-cleanable soiled sheets will be charges at 3,500 Baht per set.
Sorry, we are unable to supply beach towels in our properties but these can be purchased locally, at very reasonable prices, if required.
Each bathroom will be provided with an initial set of shampoo, shower gel and toilet paper. Other than this, we do not provide any further toiletries.
Our policy is that a child is someone, who, at the time of occupancy of our property, is proven to be less than 5 (five) years old on their official travel document.
Unless the child is sleeping in its parent's bed, it will be considered as an adult occupant of the property if over 5 (five) years of age and charged accordingly.
Baby-cots are available on request and subject to availability and charged at 500 Baht per day.
High chairs are also available on request but again, subject to availability and are supplied free of charge.
HA-PA-1097719V
Thailand, pattaya
Maximum Occupancy - 10
Need Hotel Alternate Help?
+91-11-4256 1100
Reasons to Book with us