HA-PA-1093719V -
Thailand, pattaya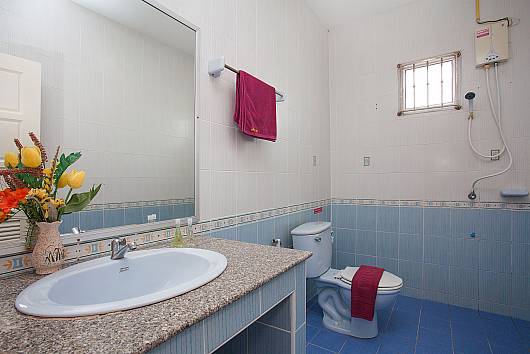 Property Description
HA-PA-1093719V Villa was completely renovated in 2009 and offers some of the most modern accommodations available. You can enjoy your own private swimming pool or take a stroll to the large 16-meter by 8-meter pool a few minutes walk from your villa. The communal pool also features a 5-meter children's pool and is a great place to meet other families with young children in tow. Located in a quiet and gated area, HA-PA-1093719V can offer you ultimate privacy and serenity that you won't find in a hotel environment. There is plenty of opportunity to relax and unwind together as a family in the luxurious comfort of HA-PA-1093719V. The large gardens offer a safe and fun area for children to play and parents to relax. Indoors you will find a spacious and airy open floor plan featuring four double bedrooms, five baths, entertainment facilities and a fully equipped kitchen. Off-road parking is available and 24-hour estate security is on hand to ensure your holiday is hassle free. Location Located just 1km from Jomtien Beach, HA-PA-1093719V is the perfect location for a family getaway. The private and quiet environment might fool you into forgetting that there are many convenient and entertaining tourist attractions within close proximity. A new Thai restaurant featuring both Thai and European cuisine is close-by and serves up delectable dishes from 8:30 am until late. The location is perfect for families, groups or singles alike looking to escape for an unforgettable Pattaya holiday.
Living room
Baan Phailin was built with comfort in mind. The building faces east allowing for cool tropical breezes to flow freely in and out of the building throughout the day. The suite is decorated primarily in cream colors and features tasteful modern furnishings. The included Cable TV and DVD/CD player has plenty of English television channels as well as children's programming.
Kitchen
The kitchen is fully equipped with everything you could desire to practice your culinary skills and impress your holiday companions. Included appliances such as a refrigerator with freezer, microwave, cooker, toaster, rice cooker and ample cutlery and dishes for feeding eight persons are at your disposal. A washing machine can be found in the rear of the kitchen adjacent to the patio area. An iron and ironing board are also included.
Dining room
The elegant dining area providing seating for six is adjacent to the living room and maintains the spacious airy feel carried throughout the villa.
Bedrooms
Baan Phailin features four bedrooms all of which are fully equipped to meet you and your family or holiday companions' needs. The master bedroom includes a king sized bed as well as additional bedroom furniture. The second bedroom has a double bed and additional furniture. The third bedroom is furnished with a king sized bed and additional furnishings while the fourth comes complete with a queen sized bed and ample furniture. All four bedrooms include en suite bathrooms as well as TVs and DVD players.
Bathrooms
All bedrooms include en suite bathrooms with full shower, toilet and washbasin facilities. An additional bathroom is included in the communal living area adjacent to the cloakroom. The fifth bathroom includes a cold shower, toilet and hand-washing basin. aily maid services are included in the rental for the villa and provide all lines and towels. Guests are asked to please provide their own beach towels or plan to purchase them at one of the local beach shops. A washing machine is available in the villa but a local laundry service offering competitive prices is within close proximity as well if desired.
Highlights
| | |
| --- | --- |
| Distance to Beach | 1 km |
| Distance to Restaurant | 0.5 km |
| Distance to Nightlife | 1.5 km |
| Distance to Shops | 0.5 km |
| Distance to Spa/Wellness | 0.7 km |
Amenities
High-Speed Internet
Housekeeping
Parking
Meet and greet
Non Smoking
Washing Machine
Car Available
Private Pool
Chef Available
Air Conditioning
Linen Provided
Towels Provided
Kitchen Fridge
Equipment Kitchen
Microwave
Kitchen Hob
Kitchen Kettle
Outside Balcony
Fully equipped kitchen/kitchenette
Terms & conditions
Refundable Security Deposit
Upon check – in, we require a refundable security deposit, payable in cash, in any currency.
The amount of the refundable deposit is dependent upon the size of the property. These amounts are general guidelines only and some villas may require a larger deposit. Please consult your booking form or submit an enquiry for the exact amount.
Tariff
Properties up to and including 3 bedrooms = 5,000 Baht
4 & 5 bedroom properties = 10,000 Baht
6 bedroom properties and above = 15,000 Baht
We retain the right to request and hold in safekeeping, the passport or ID Card of the party leader as stated on the Booking Form until the refundable deposit is paid.
We retain the right to refuse access to the property if the party leader and / or their guests refuse to comply with this policy.
The deposit will be refunded in cash, in the currency given, in full, upon the departure of all guests in the party provided it is mutually agreed between the guest and the representative that no damage has been inflicted whatsoever on the property, its contents, the pool (if any) or any other aspect pertaining to the property, that ALL payments have been met and that ALL keys for the property and the personal safe, are returned.
Lost or incomplete sets of keys will be charged to the guest at 1,000 Baht per set.
Digital electronic keys THB 3000.00 per set.


Cancellation by the Guest
Villa booked is 100 % non refundable
The prices of all our properties include a daily allowance for free mains water and electricity.
Properties up to and including 4 bedrooms have 57 Kw units allowance free per day.
Properties of 5 bedrooms and above have 100 Kw units allowance free per day.
Obviously, unnecessary use of the air-conditioning, especially when out of the property or leaving it switched on whilst doors and windows are open, will waste your free allowance and your money.
Please switch off your air conditioning when not required
If your free allowance is exceeded, a charge of 7 (seven) Baht per unit will be made. This is deductible from your refundable security deposit on check-out.
Some properties are much larger than others, so please monitor your usage.
With some 'high end' villas, utility services are inclusive and these will be stated on your booking details.
Please consider our non- smoking guests and smoke outside the property, ash trays are provided.
Smoking inside the property is strictly forbidden.
Any guest found smoking inside the property or any evidence that smoking has occurred within the property WILL be charged at 10,000 Baht to cover the costs of a professional deep clean.
The maximum number of guests which can occupy any property is dictated entirely by the number of single or double beds within that property unless otherwise agreed.
Additional occupancy is at the discretion of the agent and is non – negotiable.
Additional occupancy, if agreed , will always be charged by dividing the seasonal daily rate at the time, by the maximum number of persons for which there are beds.
Example - Seasonal Daily Rate 10,000 / 5 Double Beds = 10 guests additional guests 1,000 Baht per day plus the cost of the additional bed at 500 Baht per day.
Daily maid service is included in the price of your property
It constitutes a thorough daily clean of your property and making of the beds, it does not however include washing up your dishes or personal washing of clothes or ironing. There will be a charge of 500THB for washing up left at time of departure (See Clause 18. Surcharges)
If this service is required an offer to the maids of a nominal but realistic sum will usually suffice although it is entirely at their discretion whether they accept your offer or, for an extra charge, we can provide a full time maid service 9:00 to 17:30hrs.
Your towels will be changed after two days' usage and bed linen after four days of use. Extra towels can be provided if required at a laundry charge of 10 Baht per towel per day and extra changes of bed linen charged at 350 Baht per bed per time.
Damaged or un-cleanable soiled sheets will be charges at 3,500 Baht per set.
Sorry, we are unable to supply beach towels in our properties but these can be purchased locally, at very reasonable prices, if required.
Each bathroom will be provided with an initial set of shampoo, shower gel and toilet paper. Other than this, we do not provide any further toiletries.
Our policy is that a child is someone, who, at the time of occupancy of our property, is proven to be less than 5 (five) years old on their official travel document.
Unless the child is sleeping in its parent's bed, it will be considered as an adult occupant of the property if over 5 (five) years of age and charged accordingly.
Baby-cots are available on request and subject to availability and charged at 500 Baht per day.
High chairs are also available on request but again, subject to availability and are supplied free of charge.
HA-PA-1093719V
Thailand, pattaya
Maximum Occupancy - 8
Need Hotel Alternate Help?
+91-11-4256 1100
Reasons to Book with us